A Landlord's Dream
A downloadable game for Windows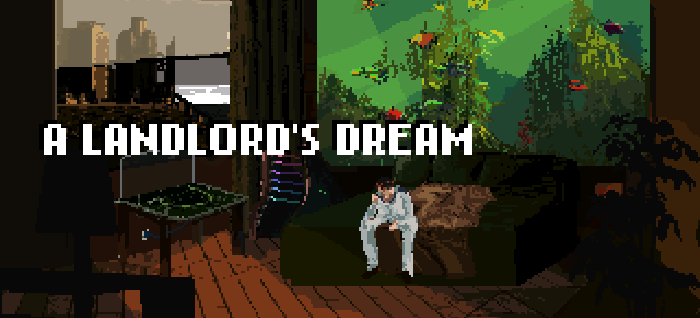 Abel Lowen, a Stringshaper, gets woke up by his apartment's alarm clock in the middle of the night. When he'll finally get up, late for his band's rehearsal, he will find out that almost nothing seems to be working properly.

What's happening? Are others experiencing the same problems? Why is his neighbour hallucinating in the middle of the hallway?
---
HOW TO PLAY
LEFT CLICK - Interact
RIGHT CLICK - Examine
F5 - Save Game
F6 - Load Game
Game developed in for Monthly Adventure Game Studio competition in January 2015. Nominated for Best Music and Sound in the AGS Awards 2015

LostTrainDude: Design, Coding, Music
Kastchey: Art, Design
CaptainD: Brainstorming Help, SFX, Proofreading
Download
Click download now to get access to the following files:
A Landlord's Dream (v1.1)
Comments
Log in with your itch.io account to leave a comment.
It's a pretty neat game, I liked the graphics and puzzles although the ending was a bit abrupt.
Thank you, Blondbraid!
I am glad you liked it, despite the ending being abrupt :)

Every once in a while we poke each other about whether it would be a good idea to get more out of this game or not, but - mostly because of the shortage of available time - we didn't really settle to do so.

I love this! The old school style, a dystopian future where everything goes wrong, kooky characters. Yup, you've got me!
Keep up the great work! =)
Thank you, MikeyBlighe!

Loved your video and can't wait for Part 2 :)

Ask and ye shall receive haha! Took me a while to get past the Fixer, but from then on it was (mostly) plain sailing!
Awesome stuff, some great world-building too. There's so many stories about this place that could be told =)
Thanks again! Since I can't decide which part I prefer more, I'll consider this as a whole :D
Other than fun it's also interesting to see where you got stuck the most and why! I guess I'll have to thank you twice!

My type of game , although wish it was longer .
the gameplay was good and the dialog was nice too !
thanks for the experience .
Cyberpunk? Can't say no to that. Downloaded it and completed it (I think, unless there are multiple endings). Great job - wish it was longer :)
Thank you meta dreamr! No multiple endings, so that's it!
Yeah, we worked on it full speed during that game jam, also thinking about expanding it, but never really got around to do it... Just yet? Who knows! :)

Hi vampcute! Thanks for playing!
Can you please tell me more about it, so that I can help? If necessary I could open a hints section on this game's page.
Thank you!

You are very welcome I find this game very interesting I love it but the im having trouble at the terminal part where theres a computer and theres like a list of errors that you need to fix and its really difficult for me to figure out how to fix the terminal. I hope you understand what I'm trying to say and please do open a hint section on the games page that would be very helpful. ♥
Hint #1
- type HELP to get back to the main menu of the terminal!

Hint #2
- Among all the missed tickets, there is apparently a single one that managed to get through!

Hint #3
- The system crashed and cannot be rebooted! Maybe reverting it to a previous working version will work

Let me know if you need me to be more specific and thanks again for playing! :)

thanks for the hint bro i'll let you know if I need more hint or help :) and you are very welcome ♥
An interesting game similar to the one I like.