FANBOTS
A downloadable game for Windows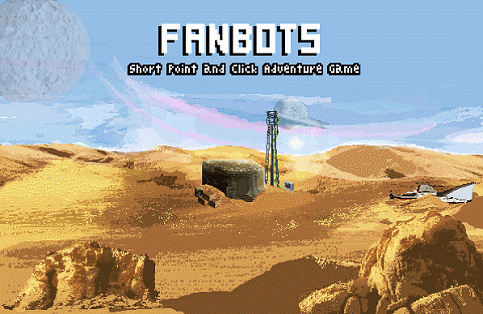 A team of robots reaches the far planet of Koruuna to take over an abandoned Production Studio and revive their favourite show: ANDROIDS*
---
FANBOTS was developed for the Monthly Adventure Game Studio competition in June 2015.

Features
Full Voice Acting!
Robot lingo!
References!
NO COMMON INVENTORY!
A song performed by CaptainD!
How To Play
Left Click to Interact
Right Click to Examine
LostTrainDude: Design, Coding, Voice Acting
Kastchey: Art
CaptainD: SFX, Proofreading, Voice Acting
* "Androids" is a fictional/parody TV series appearing for few brief moments in the tv show Red Dwarf
Install instructions
If you encounter any issues, try running the winsetup.exe executable and tweak the configuration as needed, or leave a message in the Discussion Board.